Buying and Selling Hill Special cycle frames and complete bikes.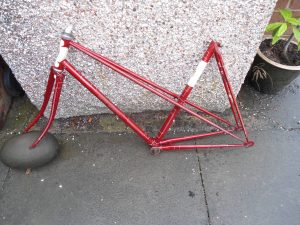 There are buyers and sellers for both Hill Special frames and complete cycles.
The earlier Padiham built Hill Special frames from the late 1940s and 1950s appeal more to the Classic Lightweight cycle collectors who will use them on classic lightweight rides. Unfortunately these purchasers are very demanding and like the bike to be equipped with correct contemporary equipment from the 1950s and also to be finished in either its original paintwork or to have been re-enamelled with correct transfers. Thus a 1950s frame with its original finish in good condition will command a better price than a 1970s or 1980s frame in similar condition.
A 1940s or 1950s frame could realise £60 to £85 if in good condition. A frame still in its original paintwork in good condition could fetch £75 to £100 (also track frames will always sell for more than equivalent road frames).
A complete bike equipped with good quality 1950s components could fetch £200 to £350.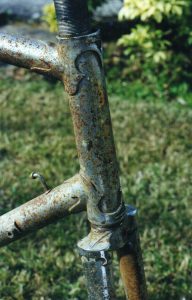 A lot of 1950s frames had some chrome plating on and, unless this chrome is in exceptionally good condition, it will be difficult to get the frame restored to its original condition without considerable expenditure, either on having the areas re-plated or by having the chromium plate professionally removed and the surface prepared for painting.
For Hill Special frames built at Blackpool in the 1980s there is still a good market from cyclists wishing to own a craftsman built steel frame to ride in Audax events or for long distance touring. Frames could fetch £50 to £75 and complete bikes £150 to £250 with some racing bikes with a full groupset of contemporary Campagnolo components fetching considerably more.
There are various ways of selling and buying Hill Special frames and bikes.
To realise the highest price you could try to sell it on Ebay, where some people appear to have more money than sense. It may be easier to sell and despatch a frame than a complete bike.
Although you can sell a complete bike on ebay the only realistic way is on the basis that the buyer collects from your house – this will only get good responses if you live in or near a large city or motorway – it is too expensive and too inconvenient to ship complete bikes plus they are prone to damage.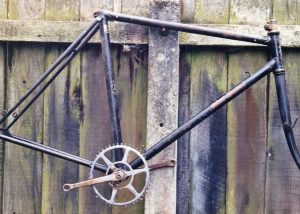 Finally if there are cycle jumbles near you, you can usually arrange to take and display complete bikes there as well as just frames. This gives you the opportunity to haggle and get a cash deal.
Remember if a Hill Special in pristine condition in its original paint work with original transfers sells for over £500 on eBay it does not mean your rusty, hand-painted Hill Special with bent forks and a buckled frame is worth £500.
When a seller tells you he could get over £300 for his frame were he to advertise it on eBay, he is simply suggesting that you look stupid ~ walk away Hill Special are not that rare another one will come your way.