This is a listing of known frame numbers identified between 2001 and May 2016 – some numbers have been ignored if they are incomplete or do not conform to the following conventions
Padiham
1945 – 4516, 4567, 4568 – ALSO 0645.8
1946 – 4657, 46153, 46236, 46348, 46474, 46552, 46636
1947 – 47341, 47672, 47790, 47803, 47828, 47939
1948 – 48270 – ALSO 1648.1, 1648.8, 1748.7, 1848.18, 2448.10
1948 – A69, A72
1949 – B237, B248, B262, B319, B569, B591
1950 – C008, C12, C49, C198, C243, C248, C356, C513, C525, C587, C674, C687, C708, C719, C732, C750, C761, C891, C964, C1037, C1079, C1085
1951 – D143, D158, D220, D280, D283, D287, D291, D330, D386, D405, D446, D488, D518, D550, D575, D586
1952 – E38, E81, E167, E197, E266, E276, E277, E310, E316, E392, E396, E463, E507, E562, E585, E594, E611
1953 – F13, F33, F38, F129, F141, F183, F185, F217, F229, F234, F246, F315, F331, F350
1954 – H21, H28, H137, H141 – G4, G516
1955 – I45, I196, 164, I116
1956 – J0, J65, J78, J126, J143
Blackpool
1980 – 837, 8010, 8042, 80415, 80416, 80627, 80730, 80854, 80863, 80974, 80975, 801079, 801084, 801086, 8010??
1981 – 812142, 813155, 813168, 814162, 816206, 818241, 819254, 819255, 8110269, 811114, 811116, 811122, 811125, 811130, 8110275, 8111275, 8111278, 8112287, 8112288, 8112289
1982 – 824322, 824323, 824331, 825338, 826346, 826349, 827350, 828357, 829369, 8210372, 8210374, 8211378
Frame Identification
If a frame is numbered according to one of the above conventions on both the bottom bracket and the fork column it can safely be identified as a Hill Special.
In addition a number of frames with different numbering or no numbering have been identified by their provenance, either being still in the possession of the original owner or because an original receipt or frame specification is available.
Blackpool frames may be fitted with seat stay top eyes engraved "Hill Special".
Transfers
Not all frames with Hill Special transfers are Hill Specials, similarly some frames with other transfers prove actually to be Hill Specials.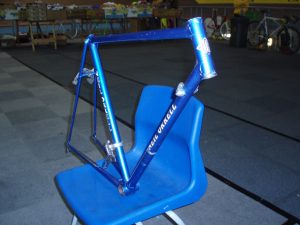 Also some Padiham built frames have been re enamelled with Blackpool transfers as, for a number of years, no Padiham transfers were available.